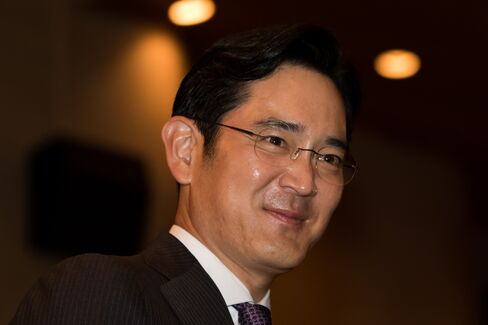 After Samsung Electronics Co.s success in selling components for rivals smartphones, Vice Chairman Lee Jae Yong is considering a similar strategy for the world of automobiles.
Samsung is in advanced talks to buy assets of auto-parts maker Magneti Marelli from Fiat Chrysler Automobiles NV, according to people familiar with the matter. Its particularly interested in the lighting, in-car entertainment and telematics business and could consider an acquisition of the whole company, the people said, asking not to be identified as the discussions are private.
Lee has pushed deeper into memory chips and displays to make Samsung less reliant on consumer electronics as he sold off assets and narrowed the scope of the conglomerate. A deal would position the 48-year-old, a director of Fiat Chryslers controlling shareholder Exor SpA since 2012, to further put his stamp on the South Korean giant and benefit from rising interest in cars from technology companies.
Apple Inc., Baidu Inc. and Google are pushing into automobiles, seeking to deploy their technology into new areas as cars become more advanced. Samsung had more than $65 billion of cash and equivalents as of June 30, according to the company.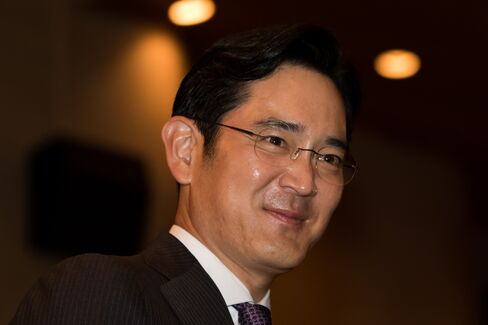 Samsung has little presence in auto-parts, but this acquisition will fast secure them business competence even as a late comer, said Lee Seung Woo, an analyst at IBK Securities Co. in Seoul. Samsung is thinking that it should change its acquisition style. It cant really start everything from the scratch.
Shares of Samsung rose 0.7 percent to 1,527,000 won as of 9:47 a.m. in Seoul. The stock has risen 21 percent this year and is on pace for its first annual increase since 2012. Fiats shares rose the most since October 2014.
For a Gadfly column on Samsungs interest in auto components, click here
A deal for Magneti Marelli could be worth more than $3 billion with a goal of closing this year, said one of the people familiar with the matter. That would make it Samsungs biggest-ever acquisition outside South Korea.
Chips, Televisions
In addition to global leadership in smartphones, Samsung is the worlds biggest producer of memory chips and TVs. Samsung declined to comment in an e-mail statement. A Fiat Chrysler spokesman had no comment.
The first major carmaker to strike a deal with Google on driverless vehicles, Fiat Chrysler is in discussions with other technology companies, Chief Executive Officer Sergio Marchionne said on a conference call after the companys second-quarter earnings results last month.
After calling off efforts to pursue a merger with General Motors Co., Marchionne has made eliminating debt his highest priority before he leaves the post in 2019. Achieving the goal would put Fiat Chrysler in a better position to find a partner. Marchionne contends that the auto industry wastes too much money and needs to consolidate to finance investment in new technology.
It makes sense for a manufacturer to separate and crystallize value from their components business, George Galliers, an analyst at Evercore ISI, said by phone from London. Ford and GM separated their businesses several years ago.
In December, Samsung Electronics created a team to work on automobile components, in-car entertainment and autonomous driving. It has also been charged with coordinating with other arms of the chaebol making batteries and providing software services. Last month, Samsungs Shanghai unit bought a 3 billion-yuan ($451 million) stake in Chinas BYD Co. to gain a slice of surging sales of electric cars.
In 2009, Magneti Marelli and Samsung teamed up to develop display products for entertainment, information and navigation. Samsung, which is expanding global sales of its displays using organic light-emitting diodes and lighting solutions, could offer new light sources and bendable dashboards to design-sensitive luxury car drivers.
Magneti has years of experience in satellite navigation, connectivity, infotainment and telematics systems, which offer connectivity with external electronic devices. Telematic devices allow in-vehicle access to specific services, including insurance, car parks and anti-theft security.
Acquiring the business would immediately give scale to Samsungs automotive ambitions through established brands, plants and distribution. A deal could open up access for Samsung to supply some of Fiats luxury brands, which include Maserati. Fiat spun off its Ferrari business last year.
Such a deal would also be the biggest move into automobiles by the South Korean conglomerate since Samsung Motors Inc. went bankrupt ahead of an eventual sale to Renault SA in 2000.
Fiats components business, which includes Magneti Marelli, Comau and Teksid, made 111 million euros of adjusted earnings before interest and taxes on 2.43 billion euros of revenue in the second quarter, helped by higher volumes at Magneti Marelli, Fiat said July 27.
Read more: http://www.bloomberg.com/news/articles/2016-08-04/samsung-s-lee-weighs-move-into-car-tech-with-talks-for-fiat-unit